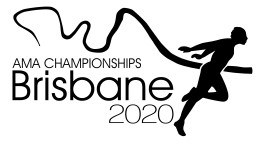 Entries are now open for the AMA Championships 2020 to be held in Brisbane in April. Entries close on March 12th with late entries available for a further 2 weeks until March 26th. Tickets to the social function can also be purchased as part of the registration.
The 2019 AMA Championships in Melbourne had massive registration numbers and Brisbane should be a similar success.
The AMA Championships are for those aged 30+ and involve a wide variety of track and field events including outdoor and throws pentathlon plus a cross country and 10km road walk.
This is the 9th AMA Championships that EML Sports has provided the registration system and its always a great pleasure to work with a dedicated LOC.
AMA 2020 Brisbane Entries Open